CAS Exhibits at Recent FLAGFA Conference
Compressed Air Systems had the opportunity to once again exhibit at the annual FLAGFA Spring Conference. This year's event was held at the Plaza Resort & Spa in sunny Daytona Beach, FL, but the weather took a back seat to the stunning event taking place indoors. With so many informative exhibitions and presentations, the FLAGFA Conference was the perfect industry event for us to kick off the New Year.
For those who are unaware, FLAGFA is shorthand for the Florida Association of Governmental Fleet Administrators. This group of seasoned professionals is dedicated to promoting and improving all aspects of the fleet management industry—this is accomplished though conferences and training events focusing on vehicle maintenance, fuel efficiency, professional development, and more.
The FLAGFA Spring Conference is a platform for industry professionals and consumers to learn about the latest innovations in air compression. This year's turnout was simply outstanding! We were thrilled to see so many familiar faces, but we also had the chance to make new connections. Dozens of vendors from across the country gathered at the event, which stimulated extensive synergy between exhibitors and attendees.
In addition to the vendor exhibitions, the event featured several educational presentations. The keynote was delivered by Frank Morgan, a highly esteemed fleet management expert.
Mr. Morgan's career spans over three decades, and in his most recent position he headed Contra Costa County's Fleet Management Department. During his presentation, Mr. Morgan shared his L.O.V.E. concept—Listen, Observe, Visualize, and Execute. These steps have enabled Mr. Morgan, and many other professionals, to achieve great success in the industry. The L.O.V.E. concept emphasizes listening to customers, observing efficiencies, and creating meaningful solutions.
Other presentations centered on vehicles of the trade. Several distinctive machines were on display from VMAC (Vehicle Mounted Air Compressors) including the factory Ford truck with a mounted underhood air compressor.  This vehicle incorporated a rotary screw air compressor mounted on the OEM engine. Another innovation that stood out was VMAC's Multifunction unit—a bed mounted (Above the Deck) product that combines a compressor, generator, welder, and PTO) in a single unit.
Compressed Air Systems is always eager to participate in FLAGFA events, since it feels like seeing old friends and close relatives. We also enjoy supporting event attendees with the best solutions for their compressed air needs.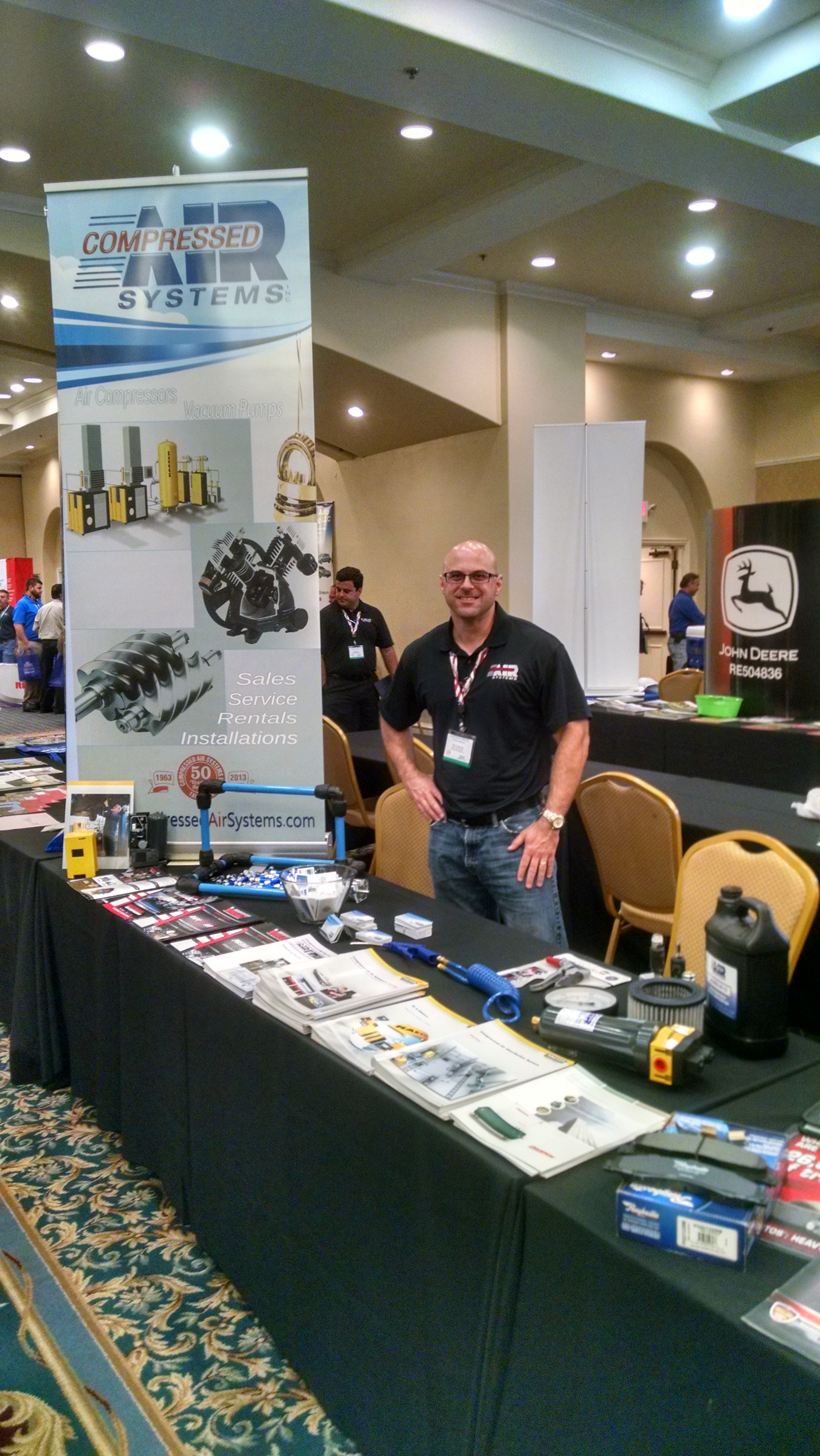 The entire CAS team would like to thank FLAGFA for hosting another memorable, successful event. We would also like to thank the event attendees that visited our booth—speaking with you all was an immense pleasure!
If you have any questions about our equipment or services, we invite you to call us at 800-626-8177 or visit the Compressed Air Systems website.