On The Use of Air Compressors with Food Grade Oil/Lubricants
Use of air compressors and pneumatic tools is widespread within the food processing industry. They are used in a variety of applications including controlling devices used in the processing operation (such as opening or closing a pneumatic valve on a reject device), handling the product and or packaging (ingredients handling and product transfers), or come into contact with a surface that contacts the product.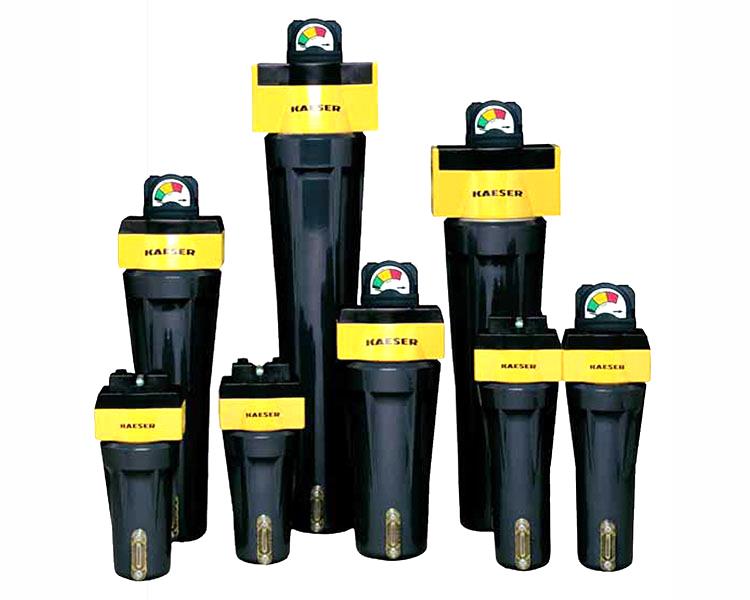 As such, operating air compressors in a food grade environment carries a high concern for contamination. When ambient air is compressed, the contaminants within the air become concentrated. Pollutants such as dirt, rust, pollen, water vapor are rampant in work environments.
Another primary source of contamination is the compressor itself and its oil, lubricants and hydrocarbons. In some cases it can be more appropriate to use a more expensive oil-free air compressor to alleviate this risk. However, if proper precautions are taken, an oil/lubricant type air compressor can be successfully purposed, reducing the cost of the system.
To most people there are three main contaminants types; Dirt, Water and Oil. These contaminants come from four basic sources in a work environment. It is important to understand these sources and their contaminants in order to remove and reduce the risk and ensure a safe and cost effective production facility.
Source 1 – Atmospheric Air
Large volumes of atmospheric air continually fill the system with microscopic contaminants. These include: water vapor, atmospheric dirt, dust and pollen particles, oil vapor and micro-organisms.
Sources 2 and 3 – Compressed Air Storage Devices and Distribution Systems
These contribute contamination in the form of rust and pipe scale. Additionally, they contain large quantities of air contaminants as well as providing an ideal warm and moist environment for micro-organisms.
Source 4 – The Air Compressor
In addition to the contaminants drawn in from the atmosphere, oil lubricated compressors contribute small amounts of oil to the compressed air stream during the process. This oil can be in liquid form, such as aerosols and vapors.
It is important to re-emphasize that oil-free compressors are NOT a requirement within the food and beverage industries. Although oil-free compressors do not inject their own oil into the air flow, they compress the same contaminated air as any other compressor.
Oil vapors in the surrounding environment are still a concern. The same filtration processes are required for purification with both lubricated and lubrication-free compressors. Lower cost, lubricated, machines can be safely used in these environments with food grade lubricants and the proper purification processes.
One of the major expenses of air compressors is in the maintenance of compressor oils or lubricants, more so with food grade systems. Food grade lubricants must be specially blended to work in a variety of temperatures (from freezers to ovens) and must not contain mineral hydrocarbons, animal derived materials, nut oils or genetically modified ingredients. This makes them more expensive than standard compressor lubricants.
One way to save money with air compressors is to use OEM Equivalent oils or lubricants instead of the OEM brands. Oil replacement is scheduled per number or run time hours. With industrial grade oils, this equates to about 8000 run time hours, or 1-2 times per year. But, for a food grade lubricant (2000 hrs. run-time) this comes out to be between 4 and 5 oil changes per year – a considerable expense.
If a compressor is being serviced under warranty it is recommended that the OEM product be used to maintain the warranty. When a compressor is being serviced under a warranty, the manufacturer will take an oil sample to verify the OEM oil. If the recommended oil is not being used, the warranty could become void. However, after the air compressor warranty expires there is no reason to use the OEM oil.
Over the remaining life of the compressor (15-20 years) a less expensive, OEM Equivalent oil will save money. These products can be 50% less expensive than the OEM products but have the same properties and are even top off compatible. This savings can be even greater when the additional costs of food grade lubricants are considered.
Even though most oils are incompatible with each other in many systems, when it comes to air compressors, this is not the case. The products that air compressors use often have high cross-over compatibility with respect to OEM products.
These products are compatible whether doing a complete product change over or simply topping off the system to maintain proper operating levels; everything is equal with respect to OEM brands. There is a great opportunity for after-market sales and cross over with major brands. However, it's also important to choose high quality air compressor oil, especially in food grade environments, to avoid unnecessary contamination and repair costs, but also to extend the life of your machinery.
In addition to regularly accepted practices, a number of other standards have been developed regarding the level of allowable contaminants in compressed air. Recently the FDA passed a new food act which includes the use of compressed air. Other regulations and standards include the following:
DIN ISO 8573-1: Defines various classes for solid matter, water content, and oil content.
Article 5 of European Regulation 852/2004: Concerns food safety management systems based upon HACCP (Hazard Analysis Critical Control Point).
ISO standard ISO22000:2005: fully endorses the HACCP process and states that hazard analysis is the key to an effective food or beverage safety management system.